Fort Collins, Colo., Jan. 22--Every flag in Fort Collins is flying at half mast this week, in tribute to the memory of George Beach, aviator cadet, who lost his life Sunday in an aeroplane collision in southern Italy. Beach was the first Fort Collins boy lost in the war. Letters received from him the day of his death told of his successfully passing the final tests which would admit him to class as a military pilot, and of his commander having recommended him for a commission as second lieutenant.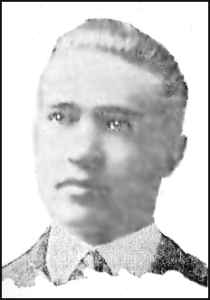 GEORGE BEACH,
Aviator cadet from Fort Collins, killed in accident on aviation field somewhere in Italy on Sunday.
Beach was a member of the first party of American aviator cadets to leave this country for the period of final training in Europe . A graduate of Boston Tech, he entered the special aviation school established by that institution on the outbreak of the war, and was one of seven to pass the ground school tests and to be sent to France for final preparation. About two months ago he was sent to Italy for instruction in handling the big Caproni battle planes.
Beach was the son of Mr. and Mrs. Thomas Beach, pioneers of the Poudre valley. He was 24 years old and gave up a valuable position with an engineering project in South America to enter the aviation service.
The body of Lieutenant Beach, who was the first American aviator to lose his life on the Italian front, will not find its last resting place in native Colorado soil. Because of the great height from which the young flyer fell to his death the war department has notified his father that it is in no condition to be shipped home. The burial was near the scene of Lieutenant Beach's last flight.
Lieutenant Beach was the first Colorado aviator to lose his life in foreign sevice. He is described by former Fort Collins schoomates as probably the most brilliant graduate of the Collins high school.