on at the old airport. So Chamberlin (right) flew up and down Harrison Avenue to attract attention. Finally, some cars drove to the air.. field and shined headlights on the grass runway so they could land."
Chamberlin's weekend in Panama City was memorable, thanks to a child who had wandered away from his parents at the airport.
''The world-famous flier," the News-Herald reported, "experienced his first stowaway yesterday, After gaining altitude on one of his numerous sight-seeing trips from the local airport,
(Chamberlin) discovered four-year- old Nickolas Hutchings of Pensacola calmly enjoying the ride. Knowing their son's love for planes, the parents rushed to Chamberlin's plane when it landed. There they found Nickey, all smiles."
Chamberlin--who spent his later years designing engines and operating flight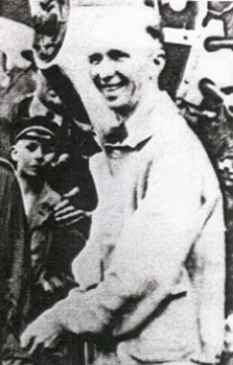 schools--died in Connecticut in 1976, largely forgotten. Had he crossed the Atlantic as intended, he'd have been remembered forever. And today Nickolas Hutchings would have one heckuva tale to tell to the grandkids!