By PAUL PINCKNEY

Today, when they are not taken for granted, they tend to be forgotten.
But when the pioneers of aviation in the Greater Rochester area began "flying by the seats of their pants," they were a sensation. And what they had to endure in those bygone days is almost impossible to believe.
"Why, 40 years ago - and even before that - the average pilot around here was looked upon as a Superman," said Ray Hylan, a longtime flier, admiring the smooth handling of jet airline traffic at the Rochester-Monroe County Airport.
He sat in his spacious office at the Hylan School of Aeronautics, 1295 Scottsville Road, and his was the face of a man who had done things he liked most to do. He had come full cycle in his profession, owner of a flourishing business, and he still enjoyed every minut of his activity on the runways.
After anwering a telep[hone call from his satellite firm, Hylan Flying Service, Inc., 1313 Scottsville Road, Ray chomped hard on a long cigar and recalled that he flew the coop "to get into flying."
"I was 14 years old when I ran away from home in Fitchburg, Mass., because in those days in new England they put you in the bughouse if they thought you were interested om flying airplanes.
even though it was one of his happiest landings when he came to Rochester to live with an aunt, Hylan doesn't recommend to present-day youth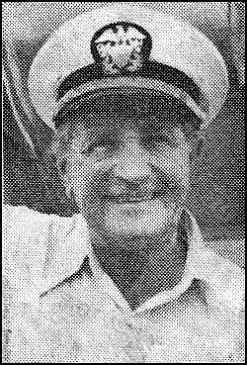 Ray Hylan
...full cycle

the kind of takeoff he uses at 14 of his venture. Evidence of the past clings to Hylan's office walls in the form of photographs, souveniers, propellers and the like.
"It was back in the Depression, in the '30s as I recall, that I had the bright idea to rent planes. The little guys, all interested in flying, just couldn't afford to buy them. I'd rent them at $6 an hour.
"We called the planes the Taylor Pipers because the Taylor brothers of Newark - Gilbert and Gordon - were the first to design and build them. Things were tough, very tough, right in the middle of the Depression."
The sandy-haired, tanned veteran
talked confidently and knowledgeably about such subjects as the economy, business, real estate and aircraft. His business interests, including commercial developments, are varied, but he is so well organized that he could fly for fun if he wished.
But the air school, with its fleet of 30 airplanes, is his first love.
"My daughter, Sandra, and her husband Ronald Rueckwald of Honeoye Falls, run the school business for me," he said, glancing over his shoullder at the single-engine planes on the line.
See that little Piper out there? Costs $25,000 today. Some go as high as $75,000. There's another one over there - $30,000. A trainer goes for $19,500. Prices are ridiculous!"
General aviation, which includes aircraft other than commercial passenger carriers or military planes, is "Growing fast, very fast," in his opinion.
"Corporate flying is getting big. Many businesses own their own planes. It's a new element of transportation."
"They use jets and piston-powered aircraft to carry freight as well. Kodak, Xerox, General Motors ... all of them send planes out to pick up parts, to keep their plants going. There are planes that fly out of here with loads of automobile carburetors, for example."
Hylan, who finds his endeavors neither dreary nor monotonous, is especially pleased by the large number of topflight pilot who have been trained in Rochester.