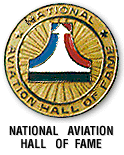 NATIONAL AVIATION HALL OF FAME

To visit his entry on this site, first click on National Aviation Hall of Fame to go to the homepage. Next, highlight and click on "Enshrinees List" at the lower left corner of the page. You will find an alphabetical listing of all enshrinees on this page. Then highlight and click on his name.


Use your "BACK" button to return to this site.

At the bottom of his page, you will find a number of important and helpful links to other sites which offer much more, both pictures and text, regarding his life and career.