DETROIT PAYS HONOR TO CAPT. WOOLSON


When Packard's endurance fliers landed at the Detroit Municipal Airport in their triumphant homecoming from Florida, they brought their record-breaking plane to a stop less than a hundred feet from the airport's main building entrance. Mounted in the wall to the right of the entrance, a bronze plaque faced the pilots and the welcoming throng. It was in tribute to the one who was directly responsible for the ingenious design and successful developlment of the Packard-Diesel Aircraft Engine. For recently, on the day dedicated to the air forces of the Army and Navy, and with most impressive ceremonial rites including the unveiling of the bas relief, Detroit paid honor to the memory of the man and genius --- Captain Lionel Woolson.
Fittingly, therefore, the ovation to the victorious Packard pilots transpired where is perpetuated the enduring memory of him whose own great, unselfish achievements made theirs possible; whose lasting design, forever a monument to his name, was thus advanced along the trails he blazed so well in his chosen profession.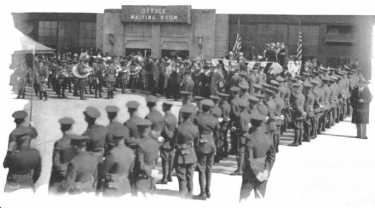 With one position vacant in their V-formation, army fliers circled above the hangar entrance where military salutes and civic homage preceeded the plaque's unveiling.




From THE PACKARD MAGAZINE, SUMMER 1931
Vol. 1. No. 1