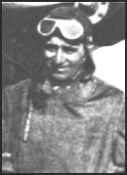 Walter Lees,
Civilian Pilot of
Dayton, Winner of Com-
mercial Craft Event at
St. Ouis Races
Race Supervision


All aeronautical events, in order to be officially recognized, are controlled and conducted under the rules and regulations of the Fédération Aéronautique Internationale, which is the international sporting body of the Aeronautic Association, headquarters, 1623 H Street, N.W., Washington, D.C. This Asso- ciation supervises all races, provides for proper timing and authenticates all records.
The International Air Races at Dayton have been sanctioned by the National Aeronautic Association and are conducted under the rules and regulations of the F. A. Il. The Official Timers, Mr. Odis A. Porter and Mr. Chester H. Ricker, usa a certified electric timeing apparatus of which there is only one of its kind in the world. This device, which is controlled by a ship chronometer, is extremely accurate. It records the time that each plane crosses the starting and finishing line and prints the time thus taken on a strip of paper, in hours, minutes, seconds and hundredths of a second.