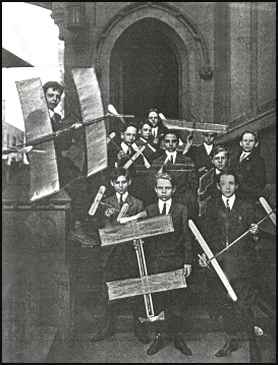 MEMBERS OF THE HORACE MANN AERO CLUB
prize. Mr. Edward Durant is director of the exhibit.


The Horace Mann Aero Club

The Horace Mann Alero Club was organized in December, 1909, with five members. This number has gradually increased until there are now 15 active members. The purpose of the club is to study air.craft in all phases, to develop individual machines, and to prove their merit by actual contest. The present officers are; President: George .C. Stoddard; Secretary and Treasurer, Edward de Cemea.
The contests or races of aircraft are held as often as the machines' development permit, and are now averaging about one a month.
The rules governing the contests are:
I. Machines may be of any heayier.than.air type, and are divided into
two classes. helicopters and aeroplanes, each competing in their
respective classes only.
2. Machines may be started from the floor or the hands.
3. Distance of flight measurements are taken radial, from standing
place to point first touched by machine.
4. In event of a tie race, the following points are used to determine the
winner: 50 per cent. for length of flight, 30 per cent. for stability and
good direction. and 20 per cent for construction and design.


Model Aero

The model aeroplane shown in Fig. 1 is of such simple design and construction that any boy can make it. For the planes procure a strip of spruce 1-32 of an inch thick and cut to the shapes and sizes shown in the accompanying diagram. The frame is constructed of 1-8.inch wood.
The main plane has a span of 24 inches, being 3 inches in the center, and tapering off to 1 1/2 inches at the tips. The front plane is 16 inches long and 2 inches wide. The ailerons on the front plane are made chiefly for assisting in the balance. The machine is driven by an 8-inch propeller. doing 1,200 revolutions per minute, and the propeller is driven by 9 strands of 1-16-inch elastic. The overall weight is 2 ounces.


Model Construction DetaiIs

Fig. 2 shows a compact and neat elastic motor for models. The drawings explain its construction. For the landing device shown in Fig. 3 we are indebted to the English "Flight."
The landing skids are of split bamboo. steamed to shape, a small spar is fixed between these, and on this is pivoted and lashed with rubber a short piece of whalebone, to the lower end of which is pivoted the wheel. If the model lands with any violence the rubber lashings give, and the skids take the force of the blow (themselves giving slightly), the wheels springing.
Fig. 4 shows a simple bearing used by the writer. It consists of a small block of wood cut to the shape shown in the drawing. A hole is bored in it to form a shaft bearing.